The Pilates Studio
at Fitness Unlimited
"The Pilates Method teaches you to be in control of your body and not at it's mercy."
– Joseph Pilates
Pilates is a form of strength training, flexibility, and stability training for guests at any fitness level.
This no impact exercise is highly effective, thanks to its focus on our core muscles, which provide support and power the entire body. Pilates is also surprisingly relaxing, even as it chisels and lengthens the body while developing muscle control and improving flexibility.
Fitness Unlimited in Milton, MA offers Pilates training in a private, semi-private and group setting. With a training staff that is highly educated in both the classical and contemporary formats you will find everything you need within our program! Whether you are looking to feel centered and sculpted or are in need of rehabilitative support following physical therapy, our program can provide you with maximum results while also being therapeutic to your mind, body and spirit.
CONSULTATION:
Priced at $29 ($75 value), a consultation is required if you have no previous experience on a reformer. Please select the request consultation button and fill out the form. A trainer will contact you to schedule your session.
Personal Reformer Training that Fits your Life. Get results through one-on-one workouts personalized to match your abilities. Have a partner? We offer duet private training as well.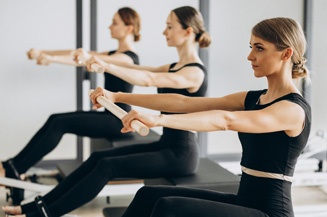 Consists of 4 participants
Small Group Reformer is 50 minutes in length and $30 per person, per session.
Classes include:
The reformer is the most well known apparatus in Pilates resistance training and is made up of springs, loops, a gliding carriage and a bar—a challenge for both the body and mind! The reformer is highly versatile and gives an intense whole body workout, promoting elongated muscles and an athletic figure. Pilates is also wonderful for rehabbing injuries and rebuilding strength. Pilates Reformer Classes are 50 minutes in length and limited to a maximum of 4 participants.
Do you favor cardio and/or HIIT style classes over slower paced mind/body workouts? Our Group HIIT Reformer classes have everything we love about this mindful practice but also integrate intervals of weight and cardiovascular training making it a fun, fast-paced, calorie burning workout!
A quick paced reformer class with intermediate to advanced level exercises. Previous experience on the reformer is required.
A fusion class utilizing barre repertoire and techniques to strengthen and tone the lower body while using the reformer for upper body, core work and stretching.
A consultation or our intro to reformer option is required if you have no previous experience on a reformer.
Options include:
Intro to Reformer is a semi-private beginner level class for students who have little to no previous experience with the reformer. This class will take you through a full body workout and teach you all the basics to help you feel confident in your Pilates practice and prepare you for joining any of our Group Reformer classes.
Prices at $29, a Pilates consultation is required if you have no previous experience on a reformer. 
No matter what your fitness level is you will get the personalized attention you need to reach your goals!
For more information about our Pilates programs contact:
Danielle Miller, Director of Personal Training & Pilates dmiller@fitnessunlimited.com or 617-698-0260 x 24.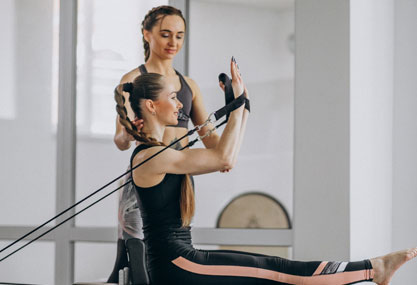 New to the club? try our Pilates BEFIT Program!
Are you ready to make the commitment to your health and finally get results? Then this 8 week introductory (for new members only) program is what you need. This program puts it all together – Individualized programming including exercise and nutrition.
8 one-on-one 1/2 hour weekly sessions with a personal trainer or pilates trainer
8 week full facility membership (child care services are an additional cost)
Unlimited Group Fitness Classes
Virtual On Demand Library featuring over 400 instructor videos
This program is designed specifically for you based on your current fitness level to get those results that you have been looking for.
You may take part in a trial offer program one time.