We currently offer free with membership the following yoga classes:
Classic:
vinyasa yoga
yoga sculpt
PiYo
Restorative:
We also offer yoga workshops periodically.
At Fitness Unlimited, we believe in helping every member create a balanced workout routine combining different aspects of fitness for a total body challenge, and yoga is a great addition to your quest for wellness. Despite what you might have heard, yoga isn't just for relaxation and flexibility, as it can also create greater strength and balance while helping you re-energize.
We offer many different styles of yoga too, so you can explore them all or pick your favorite. You can choose from Gentle Yoga to unwind and stretch out, or more vigorous Vinyasa Yoga, and PiYo, which incorporates Pilates and yoga,.
Our certified yoga instructors have gone through at least 200+ hours of training and are passionate about yoga and love sharing it with others. Many members can't believe the level of teaching skill here at Fitness Unlimited and tell us that our yoga classes have the same feeling as those in yoga studios around Boston.
Additional Services:
Small Group Yoga
Small group classes offer a more intimate setting for your practice and more specialized guidance.
Personal Yoga Sessions
Private classes are perfect for those who want to work one-on-one or with a friend to help take their practice to a new level.
If interested in Private or Small Group sessions, please email Beth at bwhitney@fitnessunlimited.com. Private training in half-hour, one-hour and duet sessions (two clients share a one-hour visit).
Non-members are welcome to drop-in to any yoga class and use our beautiful facility for a nominal fee!! Call 617-698-0260 for details.
Barre at Fitness Unlimited - Included FREE With Membership!
At Fitness Unlimited, you will experience Barre in our newly renovated Mind and Body Studio featuring mirrors, a beautiful ballet barre along three walls, hardwood floors, and space to move.
Barre is a unique way to build strength, endurance and tone your muscles in a safe, low impact manner. Strong toned arms, thighs, abs and glutes are a result of combining elements of Pilates, strength, yoga and flexibility. Lean muscle definition coupled with improved flexibility, posture and coordination help to create a strong yet graceful barre body.
The workout targets specific muscle groups working them to the point of fatigue, and follow each strengthening section of class with a lengthening stretch.
Most Barre enthusiasts rave about the physical benefits of the workout. With consistency, participants find that their bodies become slimmer and more "chiseled." Others simply get addicted to the fun dance inspired workouts set to great music and challenging choreography. All levels are taught successfully through hands on instruction.
So what are you waiting for, meet us at the Barre.
Pilates in Milton, MA:
Complete Pilates Reformer Studio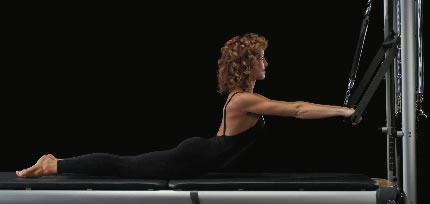 Pilates is a form of strength training, flexibility, and stability training for guests at any fitness level. This no impact exercise is highly effective, thanks to its focus on our core muscles, which provide support and power the entire body. Pilates is also surprisingly relaxing, even as it chisels and lengthens the body while developing muscle control and improving flexibility.
Fitness Unlimited in Milton, MA offers Pilates training in a private, semi-private and group setting. With a training staff that is highly educated in both the classical and contemporary formats you will find everything you need within our program! Whether you are looking to feel centered and sculpted or are in need of rehabilitative support following physical therapy, our program can provide you with maximum results while also being therapeutic to your mind, body and spirit.
Program Descriptions
Reformer
The reformer is the main machine in Pilates resistance training and is made up of springs, loops, a gliding carriage and a bar—a challenge for both the body and mind! The reformer is highly versatile and gives an intense whole body workout, creating elongated muscles and an athletic figure. Pilates is also wonderful for rehabbing injuries and rebuilding strength. Pilates Reformer Classes are limited to a maximum of 4 participants.
Reformer Express!
A 30 minute version of our challenging reformer classes so you can get your workout in with ease!
Reform Barre
A fusion class using the barre for leg work and the reformer for core and  upper body strengthening and stretching.
The Fitness Consultation, priced at $29 ($75 value), is required if you have no previous experience on a reformer. Please fill out the proper forms with the Member Service desk prior to registering for a group class. An instructor will contact you to schedule your session.
50 minute classes run every four weeks. Up to four slots available.
For pricing, payment and days click the button below:
Non-member rates are available. For more info call 617-698-0260 x24.
No matter what your fitness level is you will get the personalized attention you need to reach your goals!
For information regarding our private and duet training for Pilates and Yoga, click the button below:
The above services are available for an additional fee.