Meet our class instructors
As the leading women's health club on the South Shore, our certified class instructors are here to get you results! Check out the biographies below to learn about all the experience our incredible staff brings to the table.
Meet our instructors and try our studio classes free with a 3-Day trial!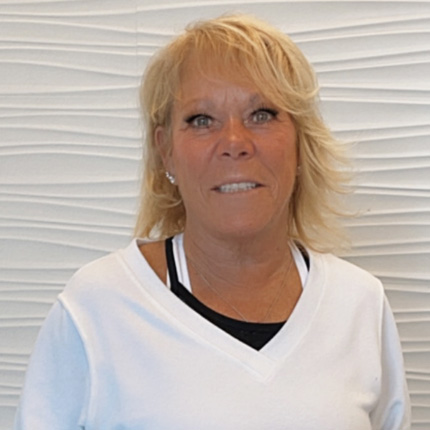 Prime
Strength
Cardio Strength
LISTEN
I LOVE LISTENING TOOLD DISCO & TOP 40. I ALWAYS LIKE TO LISTEN TO MUSIC THAT MAKES YOU WANT TO DANCE.
WHY?
I teach because I love making people feel strong and good about themselves!
HOW LONG?
I've been teaching group fitness for 38 years.
WHAT DO I LOVE?
I LOVE TEACHING AT AWOMEN'S ONLY GYM. THE COMRADERY, SUPPORT AND FRIENDSHIPS THROUGH ALL THESE YEARS HAS MADE FOR A HAPPY AND HEALTHY LIFE!
LISTEN
DM, ELECTROLATINO, R&B, ANDHIP HOP!
WHY?
I LOVE EXPRESSING MY PASSION FOR FITNESS THROUGH DANCE! IT'SAN HOUR TO SHAKE OFF OUR STRESS, BURN LOTS OF CALORIES,AND HAVE A GOOD TIME. SEEING THE SMILES AROUND THE ROOM IS THE BEST FEELING!
HOW LONG?
HAVE BEEN TEACHING ZUMBA SINCE 2015 AND I AM ZUMBA CERTIFIED.
WHAT DO I LOVE?
I LOVE SQUATS! I ALSO LOVE TO CHOREOGRAPH MY OWN ROUTINES.AS A PROFESSIONALLY TRAINED FIGURE SKATER FOR ALMOST 20YEARS, MUSICALITY IS ESSENTIAL TO PERFECTING ZUMBA CHOREOGRAPHY.NOTHING FEELS QUITE LIKE EVERY ONE NAILING THE BEAT TOGETHER! WHEN I'M NOT DANCING, I LOVE TO POWERLIFT AND FIGURE SKATE!
LISTEN
Sharing my passion for exercise and fitness with others is why I love teaching. It is my goal to motivate others to be their best, feel their best! Be strong!
WHY?
Sharing my passion for exercise and fitness with others is why I love teaching. It is my goal to motivate others to be their best, feel their best! Be strong!
HOW LONG?
Fitness has been a lifelong commitment for me. I have worked in the Fitness Industry for over 36 years at the Boston Athletic Club (BAC)and the Jewish Community Center (JCC), Newton and now at fitness unlimited!
WHAT DO I LOVE?
I love the connections created between me and the clients during workouts.
LISTEN
Anything upbeat and dancey for Barre. A little more rock forSpin. Anything mellow for Pilates or Yoga (The Eagles are easy listening!)
WHY?
So many reasons-but the positive energy it brings to people is amazing to see.
HOW LONG?
I have been teaching for 25 years (Barre,Pilates, Spin, Yoga & Muscle Conditioning).
WHAT DO I LOVE?
Group fitness has been my passion for 25 years. No matter how bad my day, once the music starts and the energy of the members fill the room, everything is so much better!
Tabata
Cardio Strength
HIIT
LISTEN
I LISTEN TO POP MUSIC AND TRY AND CHOOSE UPBEAT SONGS – SOME CURRENT SOME OLD. I LOVE AGREAT FLOW FOR MY CLASS SO MY MUSIC IS RIGHT ON BEAT.
WHY?
I TEACH BECAUSE I LOVE IT! I ENJOY HAVING AGROUP IN FRONT OF MEAND BRINGING THEM THROUGH A CHALLENGING BUT DOABLE CLASS. I LOVETO SEE PARTICIPANTS GET STRONGER AND FITTER.
HOW LONG?
I HAVE BEEN TEACHING CLASSES FOR OVER THIRTY YEARS. I STILL LOVE TEACHING AND CURRENTLY AM IN TO TABATA STYLE CLASSES ASWELL AS CARDIO STRENGTH FLOW. I AM CERTIFIED THROUGH AFAA FOR GROUP FITNESS AND RECEIVED A CERTIFICATION AS AN ALLOY PT AS WELL AS A TRIBE COACH.
WHAT DO I LOVE?
I LOVE THE WAY EXERCISE MAKES ME FEEL.PUTTING FITNESS TOGETHER WITH NUTRITION MAKES ME FEEL AWESOME. FITNESS IS SO IMPORTANT FOROUR MIND, BODY AND SOUL. I BELIEVE IN IT SOMUCH.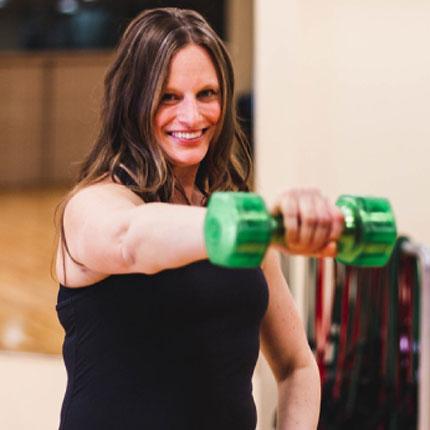 Tabata
Strength
Group Fight
LISTEN
MUSIC IS MY MOTIVATION! FROM THE NEWEST GROUP FIGHT RELEASE TO TOP 40 TO THROWBACK HITS – YOU WILL HEAR ANYTHING AND EVERYTHING WITH AN UPBEAT AND DRIVING BEAT!
WHY?
Having the opportunity to challenge myself and others while making working out FUN is motivating and rewarding! I love to show options to suit all fitness levels – encouraging everyone to make the workout their own!
HOW LONG?
I joined Fitness Unlimited as a member in 2009. Falling in love with group fitness and all the instructors I was inspired to become certified in Group Fight and Group Exercise in 2018!
WHAT DO I LOVE?
I love Fitness Unlimited! It has served as a second family – I have made amazing friends over the years and my kids have grown up coming to the gym with me! Such an incredible community and there is always someone to grab a cup of coffee with after a workout!
The Boss Chick Dance Workout®
Why did you become a fitness instructor?
I became a fitness instructor because I loved the community and the energy of this gym so much. I love watching the women get stronger and push themselves each and every week!
How long have you been an instructor?
I'm new to the instructor game. I've learned so much in the short time I've been teaching, and I'm excited t keep growing and learning.
What type of music will we hear in class?
My music is all over the place – just like my brain. You'll hear everything from early 2000's to Dolly Parton.
What do you love?
I love getting strong. For a long time women weren't pushed to lift weights, and I'm so glad that's changing. Having a body that allows me to get stronger each week is the best!
LISTEN
UPBEAT DANCE MUSIC ISSO FUN! MY PLAY LIST VARY FROM POP TO CLASSIC ROCK & THE HITS OF 2000'S.
WHY?
Knowing how exhilarated I feel after working out leads me to motivate & share my passion with others.
HOW LONG?
I've been instructing classes for over a decade with my certs in group exercise, cycle, barre & TurboKick.
WHAT DO I LOVE?
I love living each day as if it's the weekend :)There is no better feeling than being in a room with like minded woman that have a no-excuse attitude. This is what keeps me energized& coming back for more!
LISTEN
I love country music…but I won't make you listen to that in class… in class it's usually pop, or 90's music.
WHY?
I teach because I love when other teachers motivate me to work harder… I hope to motivate others to love working out too!
HOW LONG?
I have been teaching since I was in college… so a really long time.
WHAT DO I LOVE?
What I love about fitness… I love how I feel after working out… especially right now- with the stress we are all under-working out is my stress relief.
LISTEN
Motivating instrumental music is typically what I play during class – music to help you calm your nervous system but also allow you to connect your movement and your breath effectively. At home I like to listen to Ed Sheeran radio
WHY
I truly believe that yoga can help regulate the nervous system and it still amazes me how much better you can feel by the end of one yoga class.  I also love that yoga teaches you how to move your body in a functional way; so you can get physical and emotional alignment with each class
HOW LONG?
I have been teaching yoga since 2006 and have completed 3 separate 200 hr teaching trainings as well as numerous workshops throughout the years.
WHAT DO I LOVE?
I love and am so excited that I am coming back to teach at Fitness Unlimited!
LISTEN
MY MUSIC CHOICES AREALL OVER THE PLACE! SOMEDAYS I WANT TO WORKOUT TO RAP, SOMETIMES POP OR EDM! I LOVE AGOOD THEME OR AT LEAST SOME SING-A-LONG SONGS!
WHY?
I LOVE HELPING WOMEN FEEL GOOD ABOUT THEMSELVES. ILOVE TO INSPIRE AND EMPOWER THEM TOKEEP GOING AND STAY POSITIVE WHILE KEEPING IT FUN.
HOW LONG?
I HAVE BEEN TEACHING FOR 10YEARS, MOSTLY THROUGH DANCE FITNESS AND ZUMBA!
WHAT DO I LOVE?
FITNESS HAS BEEN APART OF MY LIFE FOR ASLONG AS AS I CAN REMEMBER. I LOVE THE ENERGY AND FEELING OF ACCOMPLISHMENT IT GIVES ME AFTER A WORKOUT. YOGA &BARRE AND RUNNING COMPRISE MOST OF MY EXERCISE.
LISTEN
ANYTHING THAT CREATES A MOOD. UPBEAT AND ECLECTIC TO MAKE YOU MOVE,SLOW AND STEADY FOR STRETCHING AND FOCUS ON FORM. I LIKE TO THINK MUSIC SELECTION ISWHY BEATZ WORKS SO WELL.
WHY?
I ABSOLUTELY LOVE TOSEE PARTICIPANTS HAVING FUN WHILE CHALLENGING THEMSELVES! DOESN'T MATTER IF IT'S A SMALL GROUP OR PACKED CLASS,AS LONG AS I'M MAKING A CONNECTION.
HOW LONG?
PUT IT THIS WAY… JANE FONDA AND I ARE BESTIES!1987! STILL HAVEMY LEG WARMERS.
WHAT DO I LOVE?
I LOVE FEELING STRONG DURING DAYTO DAY ACTIVITIES …A DIRECT RESULT FROM REGULAR EXERCISE.
Cardio Strength
Cycle
Strength
LISTEN
I love all music! And love to dance!
WHY?
I have fun teaching group fitness, I enjoy meeting the members and getting to know them.
HOW LONG?
I've been teaching for 35 years.
WHAT DO I LOVE?
I love Fitness Unlimited because its all women &we are all going through the same things so there is a lot of support & kindness! there is no better gym!
HITT
Strength & Length
Pilates Mat
Group Fight
LISTEN
I guess you can call me a "Renaissance woman" when it comes to music… I love it all! In class I like to play anything with a driving beat – a bit of Rock, a little JOCK JAMS, some COUNTRY, 90's HIPHOP….you name it, you'll hear it!
WHY?
I teach because it makes me happy to make others happy. I love, love, LOVE what I do at Fitness Unlimited. To be able to share my love and passion for fitness, movement and nutrition with others will never feel like work to me. I feel honored to be able to do what I love on a daily basis and am great full to Fitness Unlimited and their members for allowing me to do so.
HOW LONG?
I've been teaching fitness classes for almost 13 years! I started by getting group fitness certified through NETA. I fell in love with teaching and went on to get POUND certified in 2012, barre certified through EVOLVE barre in 2013, PILATES MAT and REFORMER through Balanced Body University in2016 and GROUP FIGHT Certified throughMOSSA in 2018.
WHAT DO I LOVE?
I love that no matter what stage of life your in, what kind of shape your in, what mindset your in or what injuries you may have, you can always find some form of movement to fit into your life. Right now, I'm passionate for Pilates. It's a form of exercise that I feel can benefit everyone, at every stage of life and can be done for as long as our bodies can move. Movement f any kind can heal. It can heal both physically and mentally. It's truly my sanity.
LISTEN
I HAVE AN ECLECTIC TASTE IN MUSIC BUT LOVE TO PLAY AMIX OF UPBEAT AND SOFT AMBIENT MUSIC THAT ISVERY UPLIFTING ANDC ALMING DURING CLASSES. I DESIGN PLAYLISTS TO FLOW WITH THE RHYTHM OF CLASS AND ALLOW YOU TO FOCUS N BREATH AND MOVEMENT.
WHY?
I TEACH BECAUSE THERE IS NOTHING MORE REWARDING TO ME THAN THE EXHALE OF RELEASE THAT I HEAR FROM MY STUDENTS AFTER A LONG DAY OR WEEK. EVERYONE DESERVES A SAFE SPACET O FIND PEACE IN THEIR MINDS, BODIES, AND SOULS.
HOW LONG?
I HAVE BEEN TEACHING SINCE SEPTEMBER OF 2019. I HAVE COMPLETED A 200 HOUR YOGA TEACHER TRAINING CERTIFIED THROUGH YOGA ALLIANCE ANDAM CURRENTLY UNDERGOING AYURVEDIC HEALTH COUNSELOR CERTIFICATION.
WHAT DO I LOVE?
MY LOVE OF FITNESS AND YOGA STARTED IN 2009 WITH MY FIRST ASHTANGA YOGA CLASS. SINCE THEN I'VE PARTICIPATED IN VARIOUS DIFFERENT STYLES OF FITNESS AND YOGA, INCLUDING WEIGHTLIFTING, CROSSFIT, BARRE, PILATES, ZUMBA, AND COMPETITIVE POWERLIFTING. ITHINK WHAT I LOVE THE MOST ABOUT FITNESS IS ITS ABILITY TO CHANGE YOUR WHOLE LIFE FORTHE BETTER. IT INSTILLS IN YOU DISCIPLINE, HAPPINESS, AND SELF CONFIDENCE. I ALSO FEEL THAT EVERY PERSON SHOULD BE ABLETO MAKE FRIENDS WITH THEIR BODY THROUGH MOVEMENT.
LISTEN
I LOVE ALL TYPES OF MUSIC AND LIKE TO CONSTANTLY CHANGE ITUP- ANYTHING WITH HIGH ENERGY AND A GOOD BEAT.
WHY?
I love being able to share my passion for movement and use my energy to motivate others.
HOW LONG?
I have been teaching for 7 years now-from strength and HIIT style classes to cycling to barre.


WHAT DO I LOVE?
The sense of the community that Fitness Unlimited offers is unparalleled.