Meet our PILATES Trainers
As the leading women's health club on the South Shore, our certified personal trainers are here to get you results! Check out the biographies below to learn about all the experience our incredible staff brings to the table.
Check out our Pilates Reformer schedule: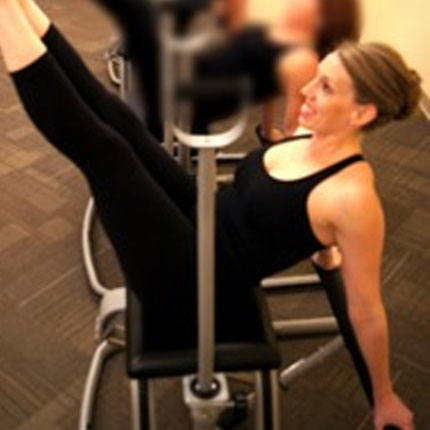 Personal Trainer & Pilates Trainer               Director of Personal Training & Pilates
BBU Pilates Mat, Reformer, Trapeze & Cadillac / ACSM CPT / Evolve Barre / Pre & Postnatal Corrective Exercise Specialist / TRIBE Team Training™
Danielle graduated from Jacksonville University in Florida where she received a BFA in Dance. She studied dance in Germany and France and has worked with many local professional modern dance companies, such as SPUNK and Company, Urbanity Dance and BoSoma. Danielle started working at Fitness Unlimited with a goal of expanding her knowledge of the relationship between dance and fitness. She is a certified Balanced Body University Pilates Mat, Reformer & Tower instructor, a certified Evolve Barre instructor and a certified ACSM Personal Trainer. As a trainer, she helps people reach their goals and assists them in finding the sensitivity within each body movement. Danielle's perspective on living healthfully is influenced by her experience as a working mother of two; understanding that finding a balance between fitness and family is possible! After having children, Danielle discovered a new passion for women's health specifically with pre and post pregnancy and is certified as a pre and postnatal corrective exercise specialist.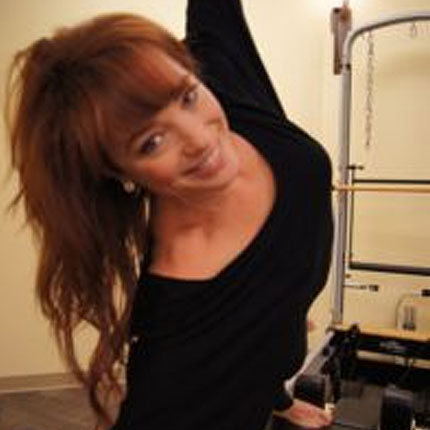 Balancepoint Pilates
Mat & Reformer / AFAA
Pia has been working in the fitness and dance industry for over 20 years. As a former hip hop dancer and choreographer, she has performed all over the country and in Indonesia.
Pia has appeared in several fitness videos including Batuka Fitness, Lose the Last 10 pounds with Denise Austin, Kick, Jab, & Burn with Tracey Mallett, Tighter Assets television series with Tammilee Webb, and The Method for Fit TV & Comcast. She has been a featured fitness model for Rockport, Reebok, Cybex, and IDEA fitness magazine. Pia is a presenter for New England Fitness Company. sharing her love of dance, choreography, and Pilates with new instructors. She is certified through Balancepoint Pilates for Mat & Reformer and maintains an AFAA Primary Group Exercise certification. Her favorite quote is, "No one ever said I regret that workout."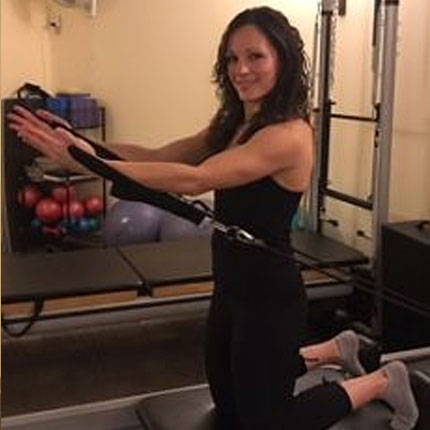 BBU Pilates Mat & Reformer / Evolve Barre / NETA / Pound Fitness / Kettlebell AMPED
Lisa has a true passion for fitness, nutrition and helping others. She feels very blessed to have found a career she loves and feels good about each and every day. As a mother of 3 girls, Lisa understands how difficult it can be finding the proper balance between work, family, fitness and nutrition and feels fortunate to be able to play a part in helping others reach their goals. Lisa has been teaching a wide variety of group fitness classes at Fitness Unlimited for over the past 8 years. Her classes include, but aren't limited to team kick, strength and conditioning, tabata, barre and Pound. Her most recent passion is the Pilates reformer.
Lisa recently left her career in Pharmaceutical Sales to fulfill her goal of becoming a certified Pilates instructor, being able to concentrate fully on her passion for health and fitness. Lisa believes that through Pilates, you can build strength, length and flexibility without adding any unnecessary strain to your joints. Anyone can do Pilates, and everyone should do Pilates.
Personal Trainer & Pilates Trainer
BS / CSCS / ACE CPT / FMSC / BBU Pilates Mat & Reformer / TRIBE Team Training™
Cheryl has over 20 years of experience helping women of all fitness levels achieve personal success. She has a bachelor's Degree in Health Fitness from Springfield College and is a nationally certified strength and conditioning coach, group fitness instructor and functional movement screen member. Cheryl has designed innovative exercise programs that create results, ranging from fat loss, muscle tone, cardiovascular health, strength training and sport specific training. She trains beginner through advanced exercisers, including post physical therapy. Cheryl is certified through the National Strength and Conditioning Association, American Council on Exercise, Functional Movement Systems and the American Heart Association. She is currently the Fitness Coordinator of the Reggie Lewis Center and is working towards her Pilates Mat & Reformer certifications through Balanced Body University.
Personal Trainer & Pilates Trainer
ACSM CPT / Tribe Team Training / RYT 200 Hour / BBU Pilates Reformer
Kimberly has been an avid exerciser and health enthusiast since high school. Her first love of exercise was distance running and weight training. While living in Colorado, she was fortunate to be a part of a coached running club that included marathon and world class runners. After suffering disk issues, Kimberly was looking to heal her back along with multiple over usage injuries. Knowing that she needed to change her workouts and build a new foundation, she discovered the importance of and her passion for yoga, pilates and proper body alignment. This passion eventually led to her yoga certification and now she is working towards her pilates mat and reformer certifications through Balanced Body University. Having spent years perfecting her running and weight training, this final component of yoga and pilates resulted in a better balance for her life, as well as her profession. Kimberly feels that her knowledge of personal training, yoga and pilates enhances her value as a trainer, as it allows her to present a unique perspective and execution plan when working with clients to achieve their goals. Additionally, she is a devoted follower of proper nutrition, feeling that it is the fuel for our workouts, and that without it our bodies will suffer.
With two sons and a husband that travels for work, Kimberly understands the difficulties of finding time for exercise and nutrition, while juggling a busy home life.  When not training clients, she loves spending time with her husband, boys and walking her lovable lab.
Sandra Casagrand, a publisher in the Boston market for more than 20 years, has a keen interest in quality content and a demonstrated commitment to women's issues. As a graduate of Simmons College, Sandra has a long-held passion for women's issues and founded a women's media company to focus on issues of wellbeing for women. She has always maintained personal good health and fitness, but when she started taking pilates in 2015, the experience was transformative and she became a super fan. In 2020, she embarked on a new journey to become a certified pilates reformer instructor. The Pilates workout has given her a such a mind body connection and incredible workout that she wants to share it with other women. Instead of sitting in front of a computer all day working with bots, she wants to work with real women and help them on their fitness journey. She is currently enrolled in the Balanced Body Certification Program and is certified to teach Reformer.
As a former college athlete, Susan has always lived a fit and active lifestyle. It was after having children, her focus shifted to include more core strengthening exercises which ultimately led her to Pilates.
Susan is excited to embark on her Pilates journey. Most recently, completing Balanced Body University's Reformer 1 & 2 certifications she is now offering classes here at Fitness. As a long time member and now trainer, Susan brings a fresh approach to our Pilates program.