Our lively, fun, positive team gets you results!
Priority #1 at Fitness Unlimited is to deliver a personal and rewarding fitness experience, and the support that comes with an all-women club, to help you build strength, wellness and confidence.
We are known for our amazing team that is dedicated, dependable and loyal with a positive mental attitude that tends to be contagious!
Changing lives through health and fitness one member at a time
We are a community of women committed to inspiring, empowering and motivating each other to achieve happier, healthier lives through fitness and nutrition.
Fitness Unlimited has called East Milton Square home for 40+ years. Over the decades, we have built a community of fellow fitness lovers. We have grown in square footage and are now the largest all-women facility on the South Shore. With an ownership change in 2020, we are proud to be a women-owned business serving all women!
Our team strives to provide a fun, safe and effective workout environment, as well as a state-of-the-art nutrition program, that energizes members on their path to wellness and a balanced lifestyle. We aspire to be a warm and welcoming place where women of all ages, all sizes, all walks of life, and all ethnicities feel nurtured and supported no matter where you are on your fitness journey.
Over the years, we noticed that mothers, daughters, wives, friends, and business leaders often put the needs of others first. At Fitness Unlimited we are here to help you put YOU first.
Welcome!
Owners Beth Whitney & Cindy McCarthy
Previously, co-managers of Fitness Unlimited for 30+ years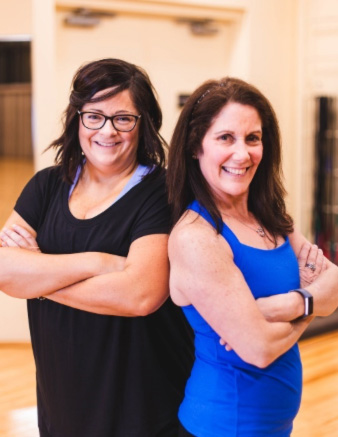 Beth Whitney and Cindy McCarthy, long-time co-managers of Fitness Unlimited, embraced a new challenge in February 2020, purchasing the Club from the prior owner. One month later a global pandemic shut them down.
Undeterred, they pivoted and launched a virtual platform building up a library of 500 classes. They maintained their fabulous staff and continued to innovate with new offerings like our new Semi-Private Training Classes. The challenges continued and they met every one of them. Why? Because after 40 years in business in the heart of East Milton Square they knew how much this Club meant to its loyal members. And, because they had run the Club for 30 of those 40 years together, they knew it could and would be better than ever post-pandemic! Their optimism, grit and determination reflects the values of their team and their members
At 12 years old Beth Whitney took up running, realized she absolutely loved to exercise, and never looked back. You could say she just about grew up at Fitness Unlimited. She joined the Club as a teenager, got certified as an instructor while in college, and taught classes after graduation part-time at Fitness. Her full-time career at the time was in finance, after graduating from the Isenberg School of Management at UMASS Amherst in 1988. But her true passion – fitness and nutrition – brought her back to Fitness Unlimited.
In 1992 Beth joined the Fitness team in its Brookline location learning every aspect of the business over her 13 years there. When her family moved to Hingham in 2005, Beth was promoted to General Manager in Milton. Fifteen years later she and her long-time co-manager of the Club, Cindy McCarthy, bought Fitness from the prior owner upon his retirement.
She couldn't be more excited to help change women's lives one member at a time. She believes wholeheartedly that creating a lifestyle that incorporates exercise, healthy eating and friendships with women will lead to a happier and healthier life! She loves to teach her studio classes, and is passionate about the nutrition program she helped launch at the Club and continues to run quarterly.
When not working, you can find Beth hanging with her husband and catching up with friends. Whenever possible, she and her husband visit their sons (ages 25 and 22) who currently live out of state. Beth loves to travel, ski and play pickleball as often as possible. And yes, she continues to run!
Cindy McCarthy joined Fitness Unlimited in 1990 as a Front Desk receptionist checking in members and answering the phones. She fell in love with the mission and atmosphere of the Club and decided to pursue a career in the fitness industry.
Thirty years ago she got certified as a fitness instructor and taught group exercise classes when using cassette tapes for music was on trend! She is still teaching classes today, albeit with much more advanced technology and a deep understanding of how fitness and good nutrition contributes to overall physical health and mental well-being.
Through the years Cindy advanced from one role to another eventually becoming co-manager when Beth Whitney joined the Milton location. Together they spearheaded major innovations, renovations and wellness offerings at the Club making it the premier women-only health club on the South Shore.
Cindy believes in optimism and positive outcomes based on her life-long philosophy that even in the worst of times there is always something to learn and benefit from.
During her time at Fitness Unlimited she earned two associate degrees, completed three Boston Marathons, and travelled the world. But her greatest accomplishment was when she joined forces with Beth to buy the Club in early 2020. As a new entrepreneur her first year in a woman-owned business came during the worst of times. She knows it was totally worth the risk, and she looks forward to the best times ahead.
Meet our OUR LIVELY, FUN, POSITIVE TEAM with a free 3-Day trial!