Here to get you results!
As the leading women's health club on the South Shore, our certified personal trainers, Pilates instructors and yoga instructors are here to get you results! Check out the biographies below to learn about all the experience our incredible staff brings to the table.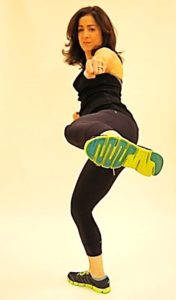 Ann Marie Boylan, Personal Trainer
Director of Personal Training
ACE CPT / CSCS / BTS / TRIBE Team Training
Ann Marie has been working in the fitness industry for over 16 years as a personal trainer, fitness instructor and manager. She holds a BS in Exercise Science and is ACE, CSCS, BTS and Group Kick Certified. For eight years, she was a personal trainer and the fitness director at the Boston Racquet Club. She has trained the Wentworth College hockey, basketball and baseball teams, and has consulted for the Lake Superior Hockey team's conditioning programs. She believes that 85% of being fit is just showing up and putting efforts into focusing on results and not excuses! After becoming a mother of two children, Ann Marie has learned to balance kids, work, fitness, and fun!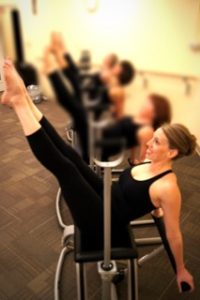 Danielle Miller, Pilates Instructor & Personal Trainer
Director of Pilates
Balanced Body University Mat & Reformer / ACSM CPT / Evolve Barre / TRIBE Team Training™
Danielle graduated from Jacksonville University in Florida where she received a BFA in Dance. She studied dance in Germany and France and has worked with many local professional modern dance companies, such as SPUNK and Company, Urbanity Dance and BoSoma. Danielle started working at Fitness Unlimited with a goal of expanding her knowledge of the relationship between dance and fitness. She is a certified Balanced Body University Pilates Mat and Reformer instructor, a certified Evolve Barre instructor and a certified ACSM Personal Trainer. As a trainer, she helps people reach their goals and assists them in finding the sensitivity within each body movement. Danielle's perspective on living healthfully is influenced by her experience as a working mother; understanding that finding a balance between fitness and family is possible!
Cheryl Chandler, Personal Trainer
ACSM CPT / Cancer Exercise Specialist / TRIBE Team Training™ / AFAA
Cheryl Chandler is a Certified Personal Trainer and Cancer Exercise Specialist through the American College of Sports Medicine (ACSM). Cheryl also has a Group Exercise Certification through Aerobics and Fitness Association of America (AFAA), teaches strength and conditioning group exercise classes, and is a Tribe Team Training Coach™. She has over 20 years of experience in the fitness industry and enjoys creating individualized programs that get results for her clients of all ages and abilities. Her primary focus is to teach her clients how to incorporate fitness into their daily lives, making a personal commitment to live healthier and happier lifestyles. Her goal is to motivate her clients to be the best that they can be while working hard and having fun!
Lauren Hendry, Personal Trainer, Master Fitness Instructor
ACSM CPT / Pre-Post Natal Specialist / Wellness Coach / Evolve Barre Certified / Kettlebell / Cycle and previous dancer with the Berkshire Ballet
As a health and fitness professional for over three decades, Lauren has had the opportunity to explore the enormous growth in group exercise, specialized group training and personal training. She prides herself on staying up to date with current fitness trends and innovative training formats. Lauren believes that enjoyment and safety are top priorities in keeping her clients energized and getting results. Her sessions are packed with creativity, purpose and most importantly, fun, so participants can enjoy the experience of developing a healthy, strong, and confident body and mind.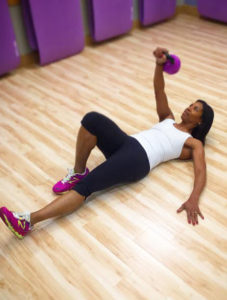 Cheryl McDermott, Personal Trainer
BS / CSCS / ACE CPT / FMSC / TRIBE Team Training™
Cheryl has over 20 years of experience helping women of all fitness levels achieve personal success. She has a bachelor's Degree in Health Fitness from Springfield College and is a nationally certified strength and conditioning coach, group fitness instructor and functional movement screen member. Cheryl has designed innovative exercise programs that create results, ranging from fat loss, muscle tone, cardiovascular health, strength training and sport specific training. She trains beginner through advanced exercisers, including post physical therapy. Cheryl is certified through the National Strength and Conditioning Association, American Council on Exercise, Functional Movement Systems and the American Heart Association. She is currently the Fitness Coordinator of the Reggie Lewis Center.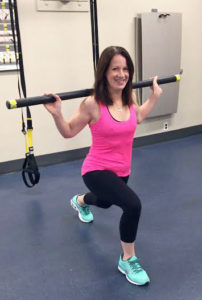 Michelle Schweitzer, Personal Trainer
ASCM CPT / ACE / TRIBE Team Training™
After a successful career in the corporate world, Michelle became a stay-at-home mom. She always had an enthusiasm for fitness and looked for a way to incorporate it in to her new life as a mother. She soon began attending stroller-based fitness classes, and then jumped at the chance to become an instructor. She received her group fitness instructor certification within a year after her son was born, and soon after her daughter was born, became a certified personal trainer. Teaching moms how to incorporate fitness in to their busy schedules became more than just a way to stay in shape; it became her passion! Michelle lives in Milton with her two kids, Jack and Sadie, and husband, Allen. Michelle believes that fitness and health are lifestyle choices with no finish line.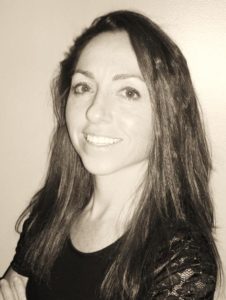 Linda Walsh, Personal Trainer
ACSM CPT / AFAA / TRX / Madd Dogg / TRIBE Team Training™
Linda has been working in the fitness industry for 29 years. She started as a group aerobics instructor in 1987 and since then, has become a spinning instructor, fitness director, general manager, and personal trainer. Linda likes to utilize her experience in all aspects of her fitness career in order to teach, motivate, coach and help others achieve their fitness goals. Linda's 29 years within the fitness industry have taught her that results come from the amount of effort others are willing to put in, and the ability to make smart, healthy eating decisions. She encourages others who are looking to improve their lifestyle to push themselves in order to become the greatest version of themselves.
Pia O'Grady, Pilates Instructor
Balancepoint Pilates Mat & Reformer / AFAA
Pia has been working in the fitness and dance industry for over 20 years. As a former hip hop dancer and choreographer, she has performed all over the country and in Indonesia.
Pia has appeared in several fitness videos including Batuka Fitness, Lose the Last 10 pounds with Denise Austin, Kick, Jab, & Burn with Tracey Mallett, Tighter Assets television series with Tammilee Webb, and The Method for Fit TV & Comcast. She has been a featured fitness model for Rockport, Reebok, Cybex, and IDEA fitness magazine. Pia is a presenter for New England Fitness Company. sharing her love of dance, choreography, and Pilates with new instructors. She is certified through Balancepoint Pilates for Mat & Reformer and maintains an AFAA Primary Group Exercise certification. Her favorite quote is, "No one ever said I regret that workout."
Linda Evbu Abel, Personal Trainer
ACSM CPT, Health and Wellness Coach & Holistic Nutritionist,
Emotional Freedom Technique (EFT/Tapping), Meditation & Mindfulness Coach
Bachelor of Business Management & Communication, Curry College

What is a Holistic Personal Trainer? It's a personal training that involves discovering the condition of the client's body internally & externally, to identify postural deficits, musculoskeletal imbalances, current lifestyle (Weight, Exercise, Nutrition, Health, Energy, Mental, and Emotional Fitness, Lifestyle) & more. This information is used to meet each client where they are physically and mentally to effectively facilitate the goal attainment process which leads to client success in multiple dimensions.
Linda's goal as a Holistic Health Practitioner: (with over fifteen years of experience) is to promote adherence & self-reliance to fitness, nutrition & the adoption of a holistic lifestyle. As a Healthy Habit Formation Coach, she's non-judgmental, an active listener & empathic which ensures that her clients are mentally present not only at the beginning & session's end but on a moment by moment basis; this promotes mindfulness leading to the development & strengthening of the client's mind & body connection. In the end, her goal is to have the stimulus become the reward. Therefore, fat loss or muscle gains & healthy lifestyle adoption become byproducts. Her ability to customize her services based on each client's present moment condition ensures that he/she remains engaged, challenged & successful in reaching his/her Fitness, Nutrition & Lifestyle goals.
After sustaining a severe tibia plateau fracture (plate & screws) over eighteen years ago, Linda's recovery ignited her desire to adopt a healthy lifestyle & her passion for helping others achieve optimal physical & mental wellbeing. This is done by correcting physical limitations through nutrition, exercise & eliminating any barrier to health & wellness with effective behavior modification techniques.
Linda exercises regularly & follows a low glycemic carbohydrate, gluten free, soy free & a sugar-free nutrition plan; by so doing, she is now a recovered "sugarholic!" Linda not only talks-the-talk but walks-the-walk! Let's begin your journey to optimal wellness together!
Linda loves nature & is a four-season hike leader with the Blue Hills Hiking Club, an AMC co-leader, road cycles, four-wheels, camps & more.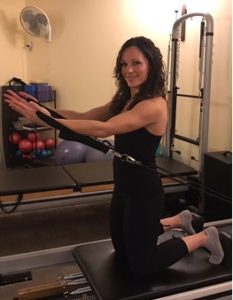 Lisa O'Toole, Pilates Instructor
BBU Pilates Mat & Reformer / Evolve Barre / NETA / Pound Fitness / Kettlebell AMPED
Lisa has a true passion for fitness, nutrition and helping others. She feels very blessed to have found a career she loves and feels good about each and every day. As a mother of 3 girls, Lisa understands how difficult it can be finding the proper balance between work, family, fitness and nutrition and feels fortunate to be able to play a part in helping others reach their goals. Lisa has been teaching a wide variety of group fitness classes at Fitness Unlimited for over the past 8 years. Her classes include, but aren't limited to team kick, strength and conditioning, tabata, barre and Pound. Her most recent passion is the Pilates reformer.
Lisa recently left her career in Pharmaceutical Sales to fulfill her goal of becoming a certified Pilates instructor, being able to concentrate fully on her passion for health and fitness. Lisa believes that through Pilates, you can build strength, length and flexibility without adding any unnecessary strain to your joints. Anyone can do Pilates, and everyone should do Pilates.
Katie Pritchard, Pilates Instructor
Power Pilates Comprehensive Certified Instructor
Katie Pritchard is a Power Pilates Certified Mat and Reformer Instructor. She has taught private and group classes since her completion of the program in 2006. A 2003 graduate of Hofstra University in New York with a BA in Dance, she has also been a children's dance teacher for over 10 years.
Katie was first introduced to Pilates as a dance student, and has found it extremely beneficial for herself and the many students she has worked with. Pilates allows each person to gain strength and flexibility while also focusing on creating a strong mind/body connection. Katie believes that movement heals and keeping a balanced body is the key to a happy and healthy life.