As I have said before, I make all my food for the week on Sunday afternoons. And honestly it is the part of the weekend I look forward to the most. During the week I spend some time on Pinterest looking at healthy recipes that I might want to make, save them, and then plan to grocery shop Sunday for the ingredients. This week we will focus on a few healthy lunches that you can make in bulk on Sunday to ensure you're not staring at a sad desk lunch when 12pm rolls around. Here's to setting the week up for success with healthy and delicious meals that will keep you full until dinner or your 3pm snack break!
Fall Spinach Salad 
This salad tastes like fall and is light enough that you don't feel a post lunch slump but still packed with nutrients to ensure you can crush the rest of your day. I roast all vegetables and chicken on Sunday but won't dress the salad until right when I am about to eat it at lunch. Feel free to add any other delicious fall vegetables to this as I am sure they would be delicious!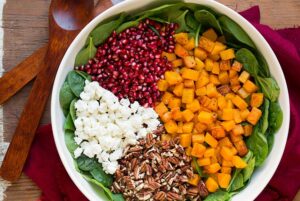 Ingredients: 
5 cups cubed butternut squash
5 cups rainbow carrots, cut in pieces
1.5 cups chopped pecans, toasted
15 ounces baby spinach
4-6 ounces goat cheese (can substitute for feta or omit if needed)
1.5 cups pomegranate arils
Chicken breast, cut in small pieces
Dressing: 
1/2 cup olive oil
1/4 cup red wine vinegar
3Tbsp minced shallot
2 1/2 Tsp honey (optional)
1 1/2 Tbsp dijon mustard
1 Tsp fresh or dried thyme leaves
Salt and freshly ground pepper
Instructions: 
– For the butternut squash and the carrots, preheat oven to 400 degrees. Drizzle with olive oil, salt and pepper. Bake for 15 minutes and then toss before baking for an additional 10 minutes. Allow to cool before placing into container to store for the week.
-For the chicken, bake at 450 degrees for 15-20 minutes depending on the size of your chicken breast. Allow to cool and cut up into pieces to store for the week.
– When you are ready to assemble the salad, add a few handfuls of spinach, a bit of goat cheese, pomegranate arils, chicken, pecans, and roasted butternut squash and carrots. Drizzle with a little dressing and toss.
Crunchy Cashew Thai Quinoa Salad (vegan, gluten free)
Another staple in my weekend meal prep is this quinoa salad from Ambitious Kitchen that has the most amazing flavor profile. It is vegan and gluten free which is a plus and an easy way to have a meatless Monday if that is something you are into.  If you are like me and have a partner at home who isn't quite up for giving up meat, you could easily add some chicken, shrimp, or beef to this as well! Also you can double the recipe to have this all week long.
Ingredients (4 servings) 
 1 cup uncooked quinoa
2 cups shredded red cabbage
1 red bell pepper, diced
1/4 cup diced red onion
1 cup shredded carrots
1/2 cup chopped cilantro
1/4 cup diced green onions
1/2 cup cashews (I prefer raw or unsalted roasted)
1 cup edamame or chickpeas
Fresh lime
Dressing
1/4 cup all natural peanut butter
2 Tsp freshly grated ginger
3 Tbsp coconut aminos
1 Tbsp honey (use agave or pure maple syrup if vegan)
1 Tbsp rice vinegar or red wine vinegar
1 Tsp sesame oil
1 Tsp olive oil or more sesame oil
Water to thin if necessary
Instructions: 
– To cook quinoa, bring 2 cups water to a boil. Add in quinoa and bring to a boil. Cover, reduce heat to low and let simmer for 15 minutes or until quinoa has absorbed all the water. Remove from heat, fluff with a fork, and set aside to cool.
– To make dressing: add peanut butter and honey to a microwave safe bowl and heat for 20 seconds. Add in ginger, coconut aminos, vinegar, and oil and stir until creamy. If you would like it to be thinner, simply add water or olive oil
-For a warm quinoa salad: saute veggies in sesame oil, add quinoa, and cashews and top with dressing. Heat all the way through. Serve with green onions and lime wedge.
-For cold quinoa salad: fold in raw veggies, into quinoa, add cashews and dressing, and garnish with green onions and lime wedge.
I hope you enjoy making these recipes this weekend to set you up for a great week of lunches! 
Picture sources: 
Picture 1: https://www.cookingclassy.com/butternut-squash-pomegranate-and-goat-cheese-spinach-salad-with-red-wine-vinaigrette/  
Picture 2: https://www.ambitiouskitchen.com/crunchy-cashew-thai-quinoa-salad-with-ginger-peanut-dressing/